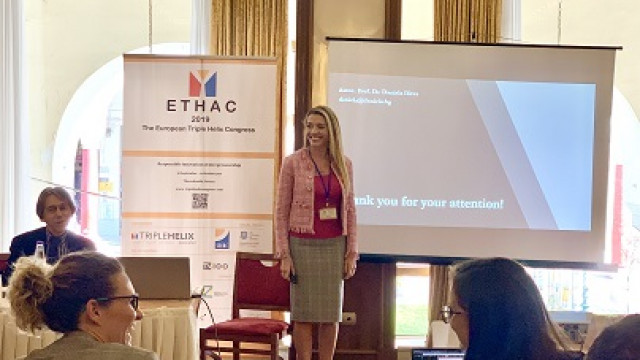 VUZF Lab with strong participation at the ETHAC 2019 International Science Congress
On the 30th of September and the 1st of October 2019 in Thessaloniki, Greece, the International Scientific Congress "European Academic Triple Helix Congress" - ETHAC2019 was held. The conference was attended by more than 151 participants from 35 countries. VUZF Lab was represented by two of its program directors - Assoc. Prof. Julia Dobreva, PhD and Assoc. Prof. Daniela Ilieva, PhD.
Assoc. Prof. Julia Dobreva, PhD, director of research department "Economics", presented a paper on "The Triple Helix Model in the Bulgarian Institutional Environment" at the conference. The report noted that the contribution of state institutions to the overall development process is considered to be one of the most challenging problems in today's economies. Therefore, the Triple Helix model, which requires cooperation between government, educational institutions (academia) and the business, is a valuable tool that contributes to the development of innovation and, as such, is a valuable tool for addressing many of the problematic aspects of economic development and social progress. The purpose of the study is to analyze the implementation of the triple helix model in the Bulgarian institutional environment by critically examining its problematic aspects, especially in education, and to propose solutions in support of the successful implementation of the model. It was shared at the conference that Ireland had the same development profile in the 1980s, but through investment in improving the level of education and educational institutions it is now able to make progress today.
The topic which Assoc. Prof. Daniela Ilieva, PhD, Director of research department "Business Management and Marketing" at VUZF Lab, presented to the audience was "The Shape of University-Industry Collaboration in Bulgaria - Best Practices and Roads Ahead". The purpose of the article is to show what is needed collaboration between academia and business.The academic dynamics do not always correspond to the speed of business corporations, and unfortunately, there is still a significant gap. In her report, Assoc. Prof. Dr. Ilieva presents a study of good practices in Bulgaria and makes recommendations based on the conclusions drawn.
VUZF University was presented as a good practice serving as a bridge connecting business and academia in Bulgaria with the special joint Master programs that have become emblematic for the university.
The Executive Director of the European Triple Helix Association Mrs. Maria Laura Fornaci formally invited VUZF University to become a member of the Association for the purpose of joint cooperation and future joint projects.
The mission of ETHAC2019 is to mobilise knowledge and innovation transfer to the global market by enabling academics, innovators, industry, entrepreneurs, investors, governments and policy makers to co-create and achieve impact.
You can find more about the ETHAC 2019 International Congress at https://www.triplehelixcongress.com/.