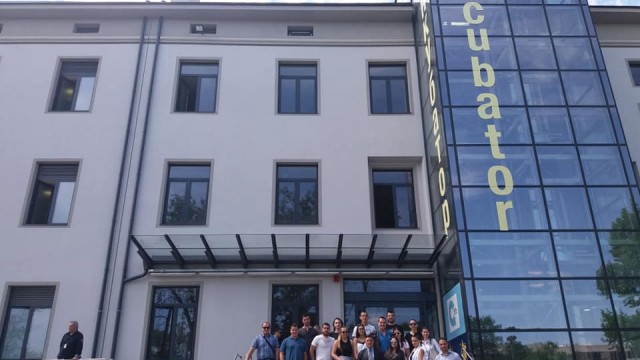 Sofia Tech Park Visit of VUZF University students
For the third consecutive year VUZF University students visit the first technology park in Bulgaria. This time, the visit, organized by Assoc. Prof. Evgeni Evgeniev on May 17, involved 20 students in the courses "Innovation and Entrepreneurship" and "Financing of Innovation" at the University.
Mr. Mihail Iliev, who is a senior business development expert at Sofia Tech Park, welcomed the students and presented up-to-date information about the innovation hub, which was built with funds from OP "Competitiveness" within 50 million Euros in 2015; in the new programming period Sofia Tech Park expects to receive additional EU funding. After that, researchers from the robotics laboratory аt Sofia Tech Park that is part of the 11 labs of the complex, nucleus of the tech park, presented their work in the field of neuro science marketing, robotics education for children, and other projects. The students also became acquainted with the function and the work of the business incubator at Sofia Tech Park and in particular they were guests of Playground Energy (http://www.playgroundenergy.com/) - Bulgarian company that sells innovative products in countries from five continents. The meeting with Mr. Hristo Alexiev was extremely interesting as he outlined the entrepreneurial culture as a key to success in business development. The students also became acquainted with the work of Mr. Ilian Milinov, co-owner of the company, who received four global awards for industrial design.

Knowledge in the field of innovation and leading technologies is at the heart of the success of developed economies. VUZF University is a traditional partner in strengthening the knowledge triangle in Bulgaria - partnership between education, business and the state. The visit to Sofia Tech Park JSC is another proof of VUZF's ambition to direct the young generation to innovative research projects that bring higher added value in the field of education and put VUZF University on the innovation map of Bulgaria.
Photos from the event can be obtained here.