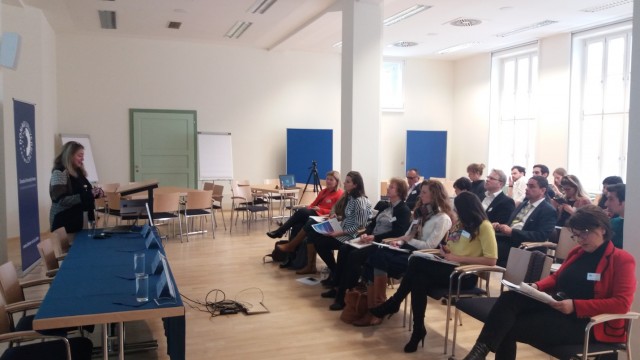 MAGNET Project: Successful Visit at the Danube University in Krems (Austria)
A visit was held between 18-20 February in Krems, Austria on the occasion of a participation in a working seminar on the project "MAGNET" coordinated by the Danube University in Krems (Austria), where VUZF University is a partner. The project focuses on entrepreneurial education and training and includes state and private universities and institutes from Austria, Bulgaria, Greece, France, Germany, Poland and the Netherlands.
Ms. Detelina Smilkova, Vice President and Associate Prof. Evgeni Evgeniev, Vice-Rector for European Projects and Continuing Education, presented VUZF University with lectures on Access to Financing and Regulatory Framework: Economic, Political and Legal, which deals with entrepreneurship among migrants.
On February 19, a consortium meeting was held to discuss details of the next steps to work on the project, while on 20 February a working seminar was held, which included representatives of the university environment, chambers of commerce and industry, entrepreneurs and migrants.
The seminar included participation from UNCTAD through Dr. Fulvia Farinelli, who lectured on "A Handbook on Policies for Supporting Entrepreneurship among Migrants: Good Practices," while Professor Gudrun Biffl of the Danube University made a presentation on "Characteristics of Migrant Entrepreneurship".