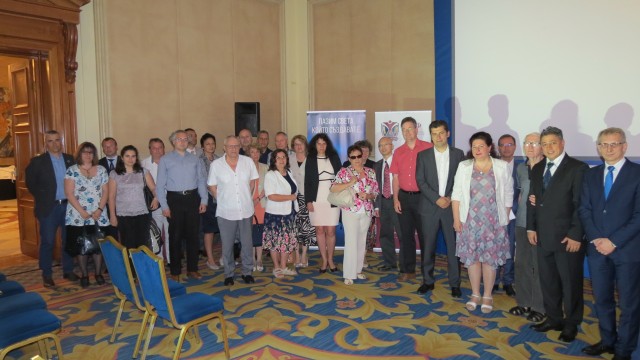 NEXT LEVEL 2017: VUZF University organized a leading scientific forum about European Research Infrastructures and the Participation of Bulgaria
On June 21st at Sofia Hotel Balkan, VUZF University of Finance, Business and Entrepreneurship organized an international scientific forum, entitled "European policy for research infrastructure and the participation of Bulgaria". Prof. Grigorii Vazov welcomed the audience and expressed hope that the rich financial resource, dedicated to financing national research infrastructure in Bulgaria, will be utilized efficiently. Prof. Ivan Dimov, Deputy Minister for Science of the Ministry of Education and Science, joined these words and expressed support for the National Roadmap of Research Infrastructure as a strategic document for the support of science. Mr. Hristo Hristov, Deputy Director of the Permanent Representation Office of the European Commission in Bulgaria took part in the welcoming panel as well in order to outline the European perspectives for scientific projects in Bulgaria.
An audience of over 50 representatives of lead consortiums for research infrastructure in the country welcomed the guest lecturers. Assoc. Prof. Evgeni Evgeniev spoke about the National Roadmap for Research Infrastructure 2017-2023 in Bulgaria, its history, European perspective, current status and future tasks, whereas Prof. Nikolay Denkov, former minister of education and science in the period Jan.-April 2017, emphasized on some key topics for the planning and strategic governance of research infrastructures. The National Roadmap for Research Infrastructure 2017-2023 of Republic of Bulgaria was approved by the Council for Smart Growth on June 26th and also by the Council of Ministers through decision on June 28th.
The next panel put an accent on the role of technology transfer and good practices of technology commercialization. Mr. Luo Qing, Secretary for Science and Technology at the Embassy of China in Bulgaria, introduced major R&D projects of China for hundreds of million of USD. Dr. Richard Smits from the Netherlands discussed the role of technology transfer, while Mr. Kiril Petkov from Canada presented an analysis of the development and technological commercialization of ProViotic JSC – among the lead innovative firms in Bulgaria. The panel was moderated by Ms. Zlatina Karova, Director of the Science Directorate at the Ministry of Education and Science.
VUZF University is among the lead universities, which support the dialogue in the triangle of knowledge in Bulgaria. In 2017/2018 academic year, VUZF will offer an international master program GLOBAL TECHNOLOGY COMMERCIALIZATION AND FINANCE for the middle management in the private sector, which will attract lecturers from 10 countries in the globe. More information about the master program is available through - http://ino-tech.vuzf.bg/
Agenda, HERE
Photos from the event, HERE
Video from the event, HERE